Evan Morse
The National Sculpture Society will present the 2018 Dexter Jones Award to Evan Morse for his work Matt and Gabriela Play Battleborn. The $5000 award is presented annually to a sculptor for an outstanding work of sculpture in bas-relief. It is expressly for sculptors between the ages of 18-39 and is funded by an endowment in memory of Dexter Jones, past Fellow of National Sculpture Society.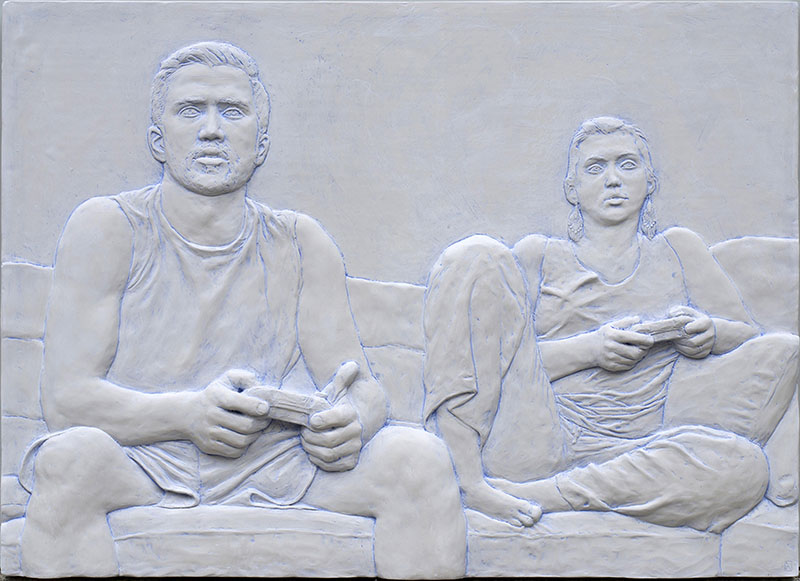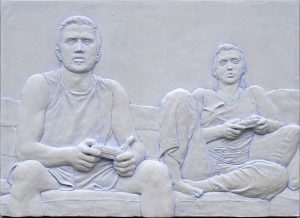 Sculptors Jeremiah D. Welsh and Christopher Smith, along with Alan Stahl, Curator of Numismatics, Princeton University, served as the jury. Welsh believes that Morse's work "is contemporary and pertinent socially while still embracing the traditions and craft of bas relief sculpture." Smith adds, "Morse clearly understands the compositional and technical restraints of low relief, but more importantly the opportunities this restrictive tradition of image making has to offer. He has taken a contemporary subject matter and portrayed it employing a very old format. In Matt and Gabriella Play Battleborn, the pose of the two clothed figures are rhythmically locked together, yet individually their attention is isolated and toward the unseen screen. The space they inhabit is actually very shallow yet virtually very deep. What connects the couple is the emphasis the sculptor has rendered their hands, where their concentration has been poetically placed. Well done!"
Morse received a B.A. from Wheaton College (MA) in 2009 and a M.F.A. from Boston University (MA) in 2015. His education also took him abroad, studying in Italy at Studio Arts College International (Florence) and Accademia De Belle Art (Carrara) and in China at SIAS University (Xinzheng).  In 2017, the Massachusetts Cultural Council awarded Morse an Artist Fellowship in the Sculpture/Installation/New Genres category. Morse exhibits regularly in his home state of Massachusetts, as well as in Vermont and New Hampshire.
The National Sculpture Society will present the award on Saturday, June 23, 2018 at the Honors and Awards Dinner, part of the Sculpture Celebration Conference which will be held June 22-24, 2018 in South Carolina.
Image on Sculpture News: detail of Matt and Gabriela Play Battleborn by Evan Morse