Bomber Command Memorial
In 2023, the National Sculpture Society (NSS) awards the Royal Air Force Bomber Command Memorial in London, England with the Henry Hering Art and Architecture Award. The Hering Award is presented as the occasion warrants for outstanding collaboration among architect, owner, and sculptor in the distinguished use of sculpture in an architectural project.
The recipients of the medals will be
Philip Jackson (sculptor)
Colin Dudley, DFC (sculptor)
Richard Kindersley (stone carver and inscription artist)
The Bomber Command Association, Jim Dooley representing (owner)
Liam O'Connor, Liam O'Connor Architects and Planning Consultants (architect)
NSS first awarded the Henry Hering Art and Architecture Award in 1960. This will be its twenty-seventh presentation. Liam O'Connor and Richard Kindersley will become two-time recipients of the Award; in 2022, they received it for their work on the British Normandy Memorial in Normandy, France.
NSS Fellows Amy Kann and Alicia N. Ponzio, along with Jesse Forrester, RLA of Forrester Landscape Studio and P. Justin Detwiler, Senior Project Designer at John Milner Architects, Inc reviewed the 2023 submissions for the Hering Award. Detwiler describes the Memorail as a "jewel-box of architecture and sculpture, with a stunning attention to detail." He continues, "The space feels quiet and contemplative, despite being adjacent to the fabric of a bustling urban environment. This is no small feat. Kudos to the architects and designers, as well as the sculptors."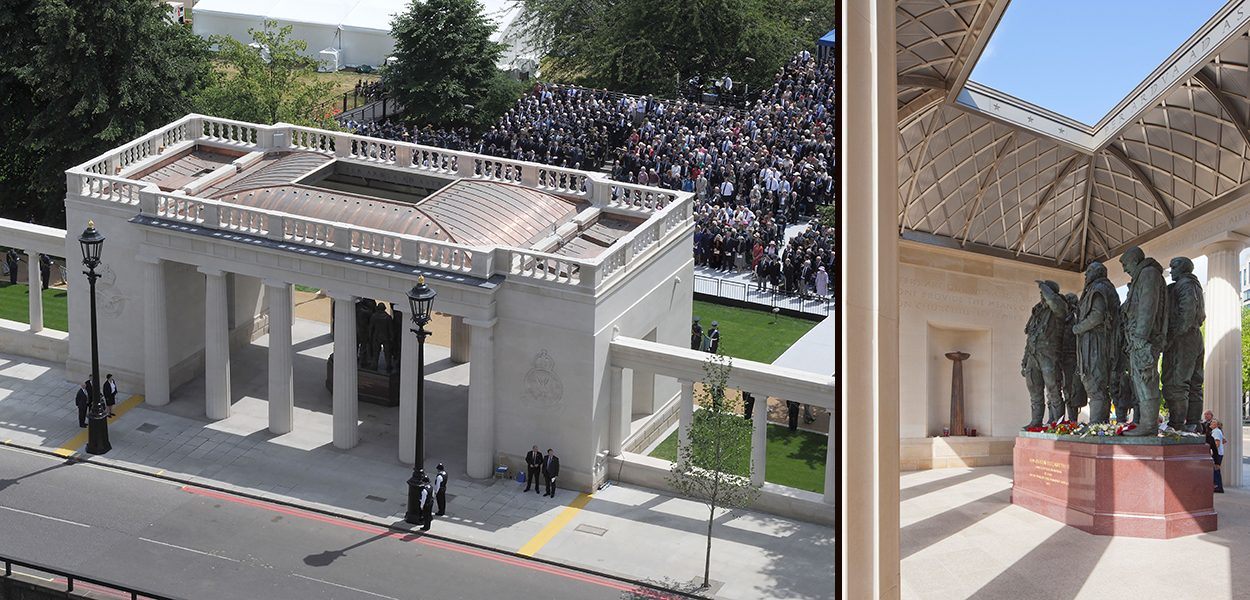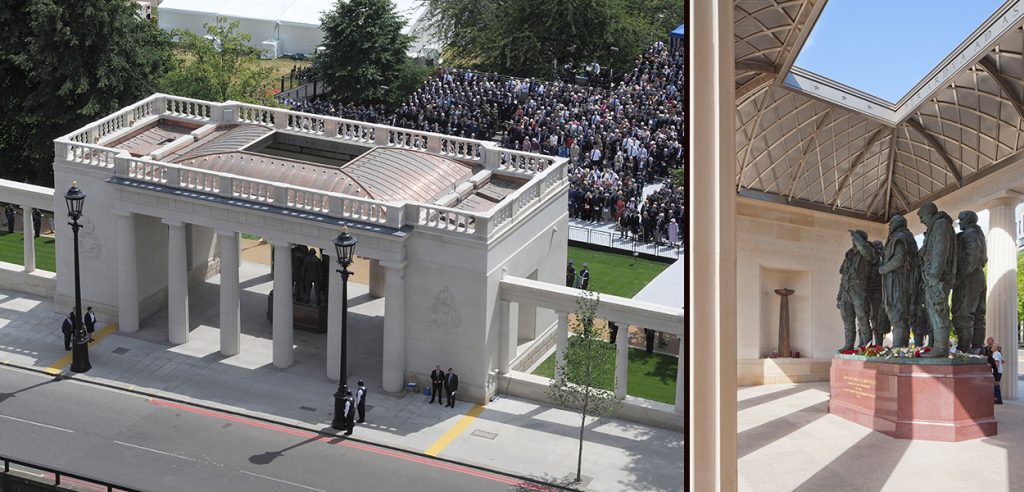 The Memorial is an open pavilion with hexastyle Greek Doric porticos on the longer open sides; one side opens towards Piccadilly thoroughfare, the other towards Green Park, one of London's Royal Parks. The positioning allows plenty of access to and free movement within the Memorial. Philip Jackson's depiction of a Lancaster bomber aircraft's typical seven-man crew stands within the Memorial. Above it, the ceiling's central opening creates a metaphysical connection between the sculptured crew and the sky where they flew. The ceiling panels, made with aluminum recovered from a Halifax aircraft shot down during a 1944 mission, are beautifully crafted. Their configuration reflects the fuselage designs of aircraft from the period.
Richard Kindersley, who is responsible for the eagle and the RAFT crests carved on the pavilion faces, also specifically designed the letter face for the Memorial. Colin Dudley, DFC, a surviving Bomber Command veteran, sculpted the wreath which graces the park side of the memorial. The combination of these thought-out elements is a fitting tribute to the 55,573 airmen from the United Kingdom, British Commonwealth & allied nations who served in RAF Bomber Command and lost their lives during World War II.
The presentation will take place at the Society's Honors and Awards luncheon on Friday, June 2, 2023 at the Century Club in New York City. The luncheon is part oAwardf the Society's 130th Anniversary Celebrations. In 1893, leading sculptors and architects such as Daniel Chester French, Augustus St. Gaudens, and Stanford White founded the National Sculpture Society in New York City.
Photos by Nick Carter